Note: If you live in BC, Alberta, Manitoba, or Quebec, these limits do not apply to you.
If you live in an applicable province, net buy limits affect the net amount of crypto you can buy to $30,000. These limits reset annually. After 12 months have passed your limit will reset.
There are 4 unrestricted cryptocurrencies that do not count towards your limit. That means you can buy and sell as much of these cryptocurrencies as you wish.
Bitcoin
Ethereum
Litecoin
Bitcoin Cash.
When you buy restricted cryptocurrencies, you use some of your limit. Selling restricted cryptocurrencies will add space back to your limit (to a maximum of $30,000.)
You will have an annual net buy limit of $30,000 if you live in one of the following provinces:
New Brunswick
Newfoundland
Nova Scotia
Nunavut
Northwest Territories
Ontario
Prince Edward Island
Saskatchewan
Yukon
Net buy limits will not impact you if you live in one of the following provinces:
Alberta
British Columbia
Manitoba
Quebec
Your limit (if one is applied) will reset back to $30,000 each year on the date that you completed the trading questionnaire.
It's important to note that these limits are calculated based on what you paid or received in Canadian dollars at the time of trade. Therefore, increases or decreases in the value of one or more crypto assets held in your account after you've made your trade would not impact your limits.
Here's What You'll See In-App
Because your trading experience is always our top priority, we've added a new net buy limit calculator. The calculator will keep track of your limits for you, so if you're approaching your limit, Newton will notify you on your screen.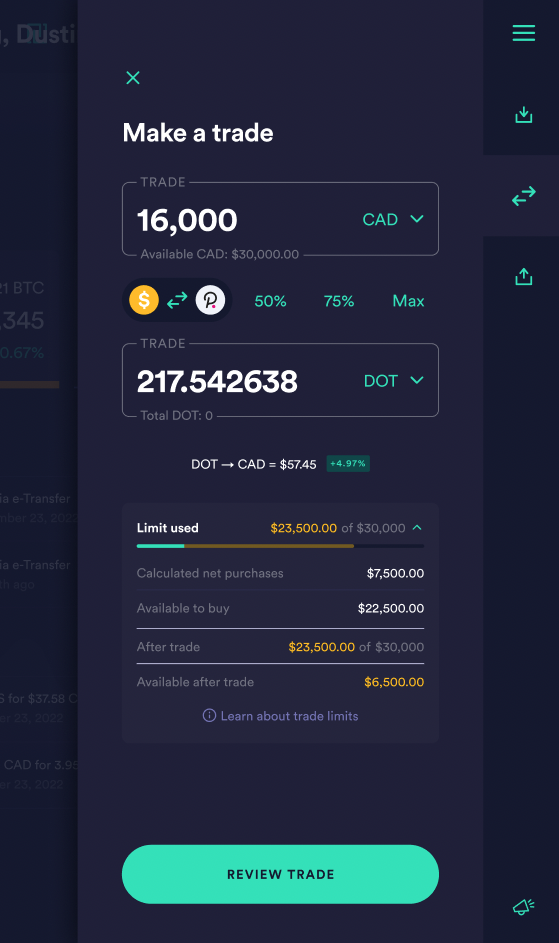 Let's look at an example:
You are a resident of Ontario, so your net buy limit is $30,000.
You can buy and sell as much Bitcoin, Ethereum, Litecoin, and Bitcoin Cash as you want to.
You buy $20,000 of Solana (SOL), a restricted cryptocurrency. You've now used $20,000 of your $30,000 annual limit. If you want to purchase more crypto, you are limited to buy a maximum of $10,000.
You then sell $10,000 of SOL. Now you've now increased your net buy limit to $20,000.
You buy $40,000 of Bitcoin (BTC) and sell $10,000 of Ethereum (ETH). Your limit is unaffected because they are unrestricted cryptocurrencies.
Time passes and now it's been a year since you signed up. Your limit resets to $30,000.
These limits have been put in place by the Ontario Securities Commission (OSC) and the Canadian Securities Administrators (CSA). If you have any questions, please contact our support team using the "Help" icon in the Newton web app, or go to Settings > Support if you're on mobile.